PROFILE
Jaq Grantford is an Australian artist based in Melbourne.
She has always had a passion for portraiture ever since she was a child, and uses it as a wonderful excuse to meet people and listen to their stories. Stories fascinate her, and she has found that with everyone there is a common thread – the push and pull of how people connect with others and themselves.
Jaq has won awards internationally, and her work is held in numerous collections, including the National Gallery of Victoria.
She also has a love of music, so when she's not painting in her studio in the company of her studio cat, she volunteers as a radio announcer on 3MBS fm, a Classical music station.
SELECTED EXHIBITIONS
Jaq has exhibited in numerous group exhibitions in Australia and internationally since 1989, with oil paintings, works on paper, and intaglio etching. The full list of exhibitions is on her website.
Jaq's work has been selected as a finalist in numerous art prizes including the Mod Portrait Prize, Spain; 13th International Arc Salon; Gateway International Portrait Competition; Fomenar Art Prize, Rome, Italy; Portia Geach Memorial Award; Shirley Hannon Portrait Prize; The Archibald Salon de Refuses; The Black Swan Portrait Prize, WA; Cliftons Prize; Master of Art International exhibition; Portrait Society of America, International Members Prize; Park Art Fair International, Germany; .
The full list of exhibitions and awards can be seen on her website www.jaqgrantford.com
AWARDS
2018 People's Choice Black Swan Portrait Prize, Art Gallery Western Australia
2018 Best in Show, Gateway International Painting Competition
2018 Placed, Portrait Society of America, International Members Prize
2017 Placed, Portrait Society of America, International Members Prize
2016 Melbourne Winner in Cliftons Art Prize
2016 Park Art Fair International, Germany, Honourable Mention
2016 People's Choice Shirley Hannan National Portrait Prize
2015 Winner Master of Art International exhibition, Architecture Award, London
2014 Winner People's Choice Black Swan Heritage Prize, Perth
2014 Certificate of Excellence – American Society of Portrait Artists
2014 People's Choice – Black Swan Heritage Prize 2014
2013 Surrealism Mortimore Art Prize
2013 People's Choice – Black Swan Portrait Prize 2013
RADIO REVIEWS AND WEBCASTS
Jacqueline Grantford has been a regular Broadcaster for the Classical music station 3MBS in Melbourne (103.5 fm for Melbourne listeners). You can stream 3MBS 3MBS.org.au
WEBSITE
www.jaqgrantford.com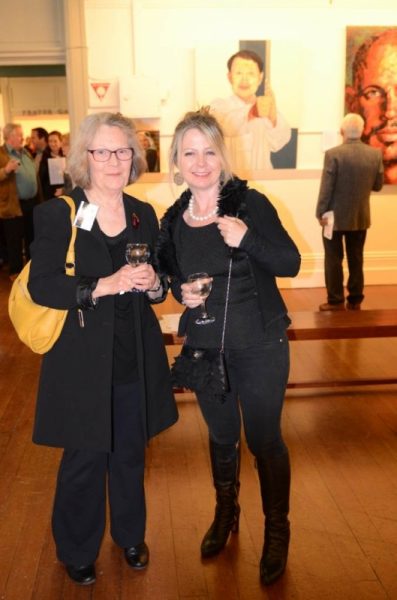 (Artists Jaq Grantford and Helen Edwards at the opening of the Portrait Artists of Australia exhibition 2014, VAS Gallery, Melbourne.)